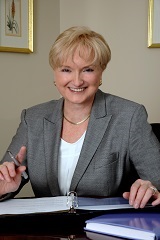 Praise for Managing Retirement Wealth
A Helpful Detailed Guide
"I have found Julie Jason's Managing Retirement Wealth to be an excellent overview, a helpful and detailed guide in the investment process of my personal portfolio management."
Peter Hathaway, retired, former Portfolio Manager in charge of over $10 billion of assets for GE Asset Management's U.S. Equity Large Cap Value Strategy
Putting Our Futures in Order
"In your hand is a book that is chock full of information on everything from muni bonds to risk management. It is a great way for anyone trying to pick up the basics—or go beyond them—as they build a strategy for a new economic climate. And in an age with so many economic uncertainties, Julie Jason's Managing Retirement Wealth is as good a place as any to bone up on the bewildering but rewarding task of putting our futures in order."
Jonathan Dahl, Editor in Chief of SmartMoney, the personal finance magazine from the Wall Street Journal
Julie will Show you how
"If you have not placed an emphasis on how you manage your portfolio, now is the time to do it. Julie will show you how."
Charles Rotblut, CFA, Vice President, American Association of Individual Investors, author, Better Good Than Lucky
Smarter Decisions About the Choices That Matter Most
"Julie Jason's Managing Retirement Wealth gets what most investment books miss—investing is a means to an end. If you achieve your goals and provide greater security and opportunity for your loved ones, that's what really matters. This fine text will prepare you to make smarter decisions about the choices that matter most, the ones that lead to your retirement success."
Don Phillips, Managing Director, Morningstar
Create the Only Investment Portfolio you will Ever Need
"At some point in our lives, we will care deeply about preserving the money we've worked so hard to save. Julie Jason's newest book, Managing Retirement Wealth, will take you by the hand and show you how to create the only investment portfolio you will ever need in retirement."
Pam Krueger, Executive Producer and Co-host of the award-winning PBS series Money Track and EIFLE Financial Educator of the Year 2010
Clear Explanations of Complex Financial Market Topics
"Julie Jason's Managing Retirement Wealth is written with the reader in mind. The book provides clear explanations of complex financial market topics and guides the reader on how to design, manage, and evaluate a portfolio to meet retirement needs."
Tom Robinson, PhD, CFA, CAIA, CFP; Managing Director, Education Division, CFA Institute
It's All Here
"At last, a sensible guide to creating a sound retirement portfolio. It's all here - creating cash flow, understanding risk, and the actual mechanics of keeping your money working for you the rest of your life."
John E Wasik, Reuters Columnist and Author of The Cul-de-Sac Syndrome: Turning Around the Unsustainable American Dream
A Successful Financial Future
"A sturdy, basic, thoughtful, and extremely useful primer to get the investor off the starting line and well down the track to a successful financial future."
Ben Stein
Explains Complex Ideas Simply
"Julie Jason gets it! Anyone who is interested in understanding personal portfolio management should read her book. She explains complex ideas simply and points out simple concepts that are easy to overlook. I thoroughly enjoyed, and learned a great deal from, her book, Managing Retirement Wealth."
Richard Berkowitz, Esq., Senior Partner, Berkowitz, Trager & Trager, LLC of Westport, CT